Walkway & Interior Stairs
November 2015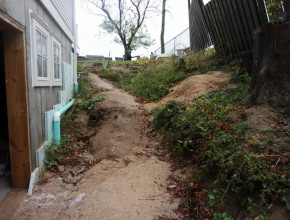 In order to install the side door on the garage, Robert needed the mason to do the exterior patio and stairs. Here is what it looked like before they started the project.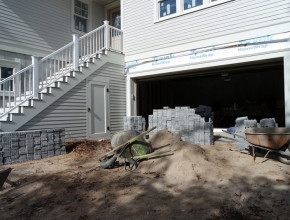 The work was done by Juan Riera Masonry. First we went to All County Materials in Bohemia to pick out the stone. Here you see it piled up in front of the garage.
For the wall under the deck, I wanted to match the existing river rock wall. Juan and his guys dug up river rocks from my yard and did a beautiful job. Can you even tell which is the new wall?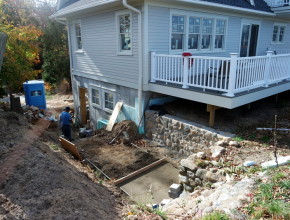 Then they had to prep the patio and stair area by putting down some recycled concrete aggregate (RCA). He also broke up the old staircase and used those pieces of concrete for reinforcement.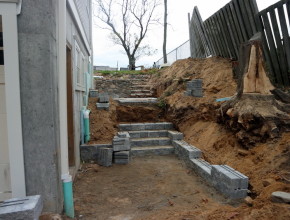 Here's a view of the project partly done. They did the patio and stairs first, then the retaining wall on the east side.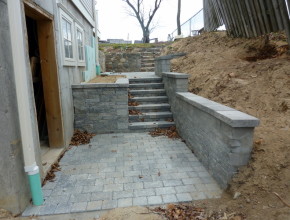 And here is the finished job. I think it turned out really great!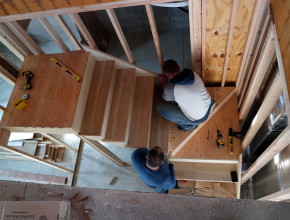 Around the same time, the interior stairs in the house were done by DK Railing & Stairs. We went way over budget on this item because it was tough to design and install them. Here's a view from the first floor of the guys installing the staircase from the basement to the first floor.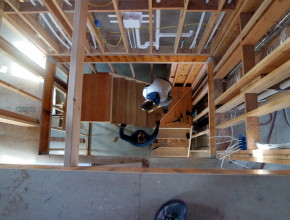 And here's a view from the second floor. The stairs treads and risers are white oak and the rest is poplar. Since they are completely open stairs, there are steel reinforcements on the back side of the stairs.
Here's a close-up view of the stairs at the basement level.