Oh, what a winter…
January 23 – February 22, 2015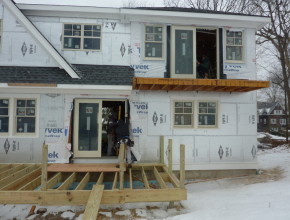 On January 23rd, all the guys showed up to install my doors because a blizzard was coming. They had to install the two sliders on the water side of the house and the front door on the south side.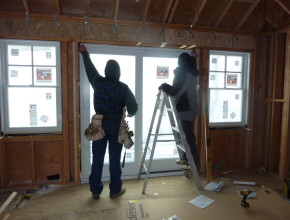 Here's Martin and Melvin installing the upper sliding glass door.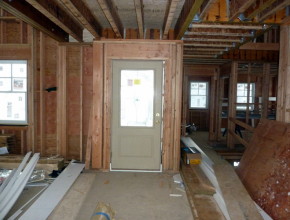 Carlos did the front door. This door was a reject from another customer. The door is great but the glass is ugly. It will be replaced.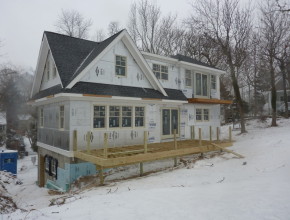 Here's the view from of the back of the house once the doors were installed and the storm was picking up speed.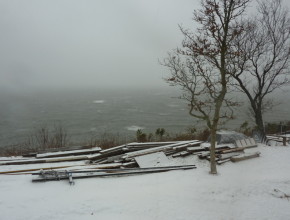 See the waves in the Long Island Sound. The winds were 40 – 50 mph gusts at times.
We ended up with about 2 feet of snow. Fortunately it was light and fluffy to shovel.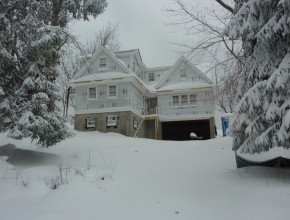 The first snowstorm of 2015 was quite memorable. It took the plow 2 days to come down the street. Fortunately the power never went out.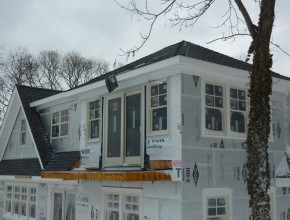 The hip roof above the master bedroom suffered some damage. See the missing shingles. Eventually they all blew off that northern face from the strong winds.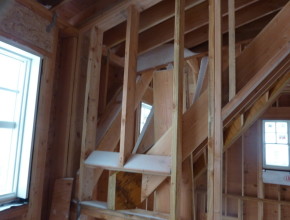 The strong winds also caused snow to blow in the roof vents on the north side of the house. See the snow drift in the roof rafters?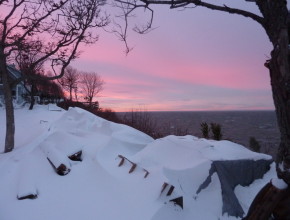 After the skies calmed, we had a gorgeous sunset on January 27th. But the weather stayed snowy and bitter cold for a whole month and the guys were unable to do any work.