Roof, Trims, & Tyvek
November 28 – December 18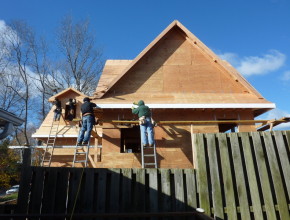 After the plywood was on the house, the guys put up the trims. The trim material is called versatex; it's a plastic material that's not cheap but holds up forever (so I'm told).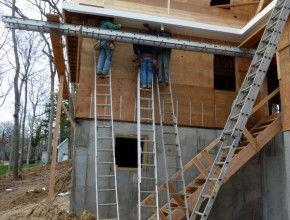 The soffits were done at the same time. They are also made of Versatex. The materials is really bendable so it took several guys to hold it in place while they nail it up.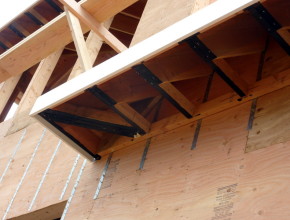 Before nailing up the soffit, Ted painted all of the wood black. Then he stapled the soffit screen. The screen covers the vent in the soffit to keep the animals out.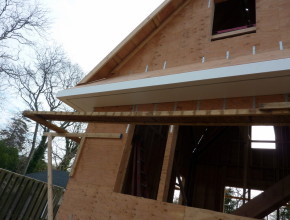 Here's a close-up view of the soffit. There are two pieces and behind the vent is the black screen.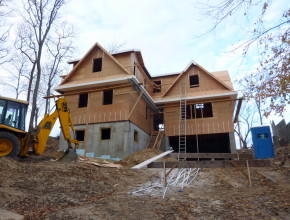 Here's the view from the front of the house once the trims were done. At this point, the house was ready for the roof shingles.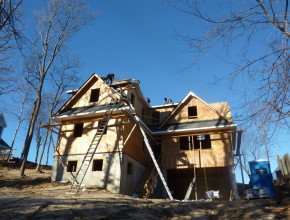 They started with the skirt. The roof color is pewter gray.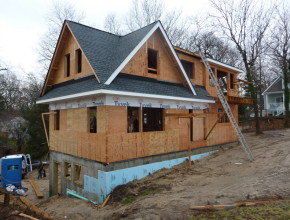 Here's the view from the back of the house once the shingles were done.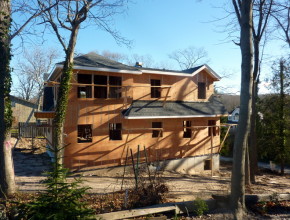 And here is the view from the west side of the house.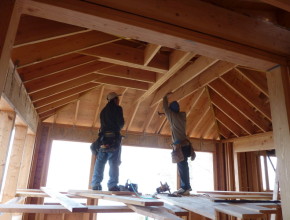 Inside the house, the guys were nailing up the collar ties in the ceilings of the second floor. They are up high to keep the ceiling vaulted.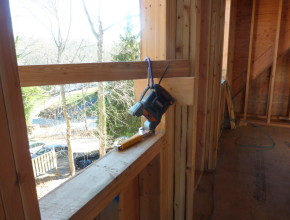 They keep themselves entertained with my Ridgid music player. See it here hanging from the window with a D-ring. Last week they were singing Christmas carols in Spanish. Julie and Mark- this music player has really come in handy.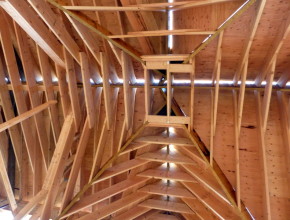 Here are the collar ties on the great room ceiling. I think it's quite artistic in addition to structurally important.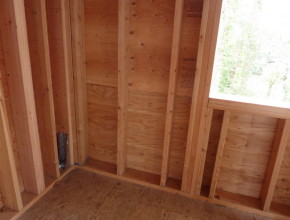 They also had to install hurricane ties in all corners of the house. These things are expensive too and don't look like they serve any purpose. But they are required by code.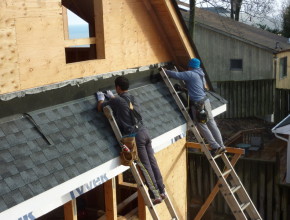 After the shingles were up, they nailed up black aluminum flashing above the skirt.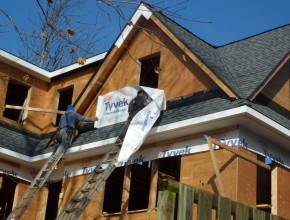 After the roof shingles they stapled up the Tyvek wrap.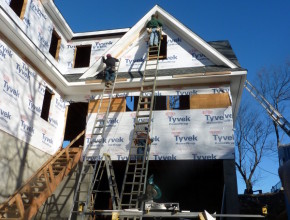 See how neatly they do the job? All of the "Tyvek" words are oriented the same way and the sheets are nicely spaced. No it doesn't matter, but it sure looks nicer.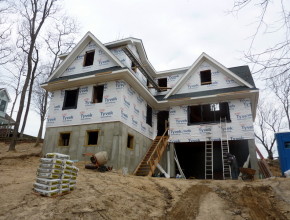 Here's the finished product after all of the Tyvek wrapping was done.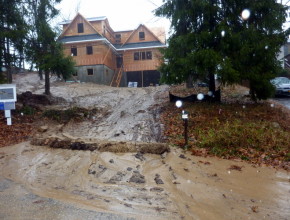 In the midst of these two weeks, we had two bad nor'easter storms that dumped almost 4 inches of rain. Here's a view of the front yard after the first storm. Robert had to put hay bales across the driveway to keep all of the dirt from washing into the street.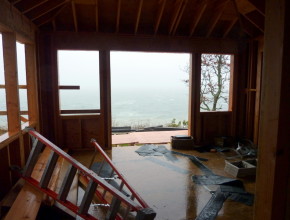 Inside the house, the roof shingles were not finished yet, so there was 1-2 inches of water on the floor.