Framing – Roof
November 5 – 14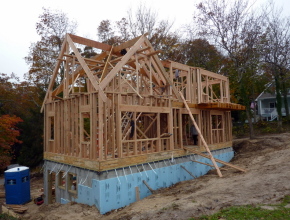 They started framing the roof rafters with the gables on the east side of the house. They call this a hip roof although to me it's an "inverted" hip roof.  Either way, it's really cool.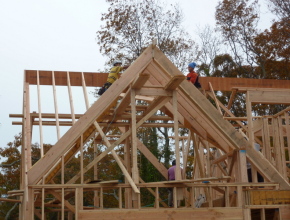 First they nailed the LVLs for the valleys and then they connected the rafters from the ridge line.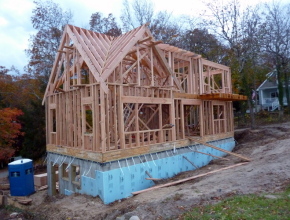 Here's the eastern "open-to-below" section with the roof rafters completed.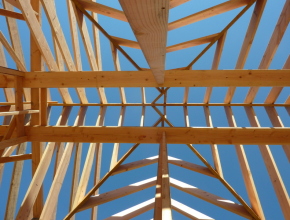 Standing directly under the peak of the roof, here's what it looks like.  Very artistic…. and complicated.  The two horizontal boards are the catwalk for the guys to stand on while nailing the roof.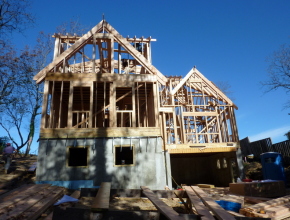 Then they did the gable on the front of the house.  Notice how the second floor walls now became the dormers for the second floor?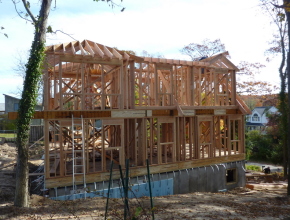 Next they set the ridge line and nailed the rafters for the master bedroom (second floor, left side).  This is what a hip roof look like to me.  You can also see the roof of the dormer underway (second floor, right side).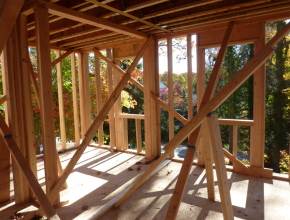 Inside the house, there's a lot of bracing to keep the walls up and square.  The wood for the bracing will be used to frame the basement walls once it's removed when the plywood sheathing is installed.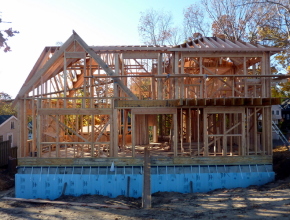 Here's a view from the back of he house once the roof was framed.  From the front of the house, it's almost impossible to see the roof because of the steep slope of the yard.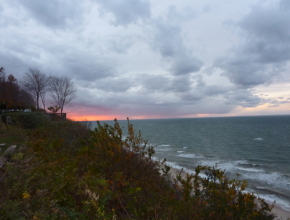 Here's a November sunset over the Long Island Sound.  The weather was windy and unsettled but it still makes for a beautiful view.