Backfill
October 16-17, 2014
The foundation had to rest for two weeks before inspection and backfill.  The Riverhead Town inspector came on October 15th and approved the foundation and said we were OK to backfill.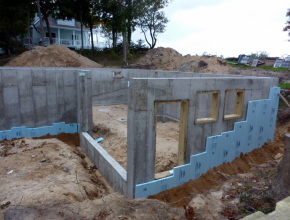 Before that could happen, we decided to add 2″ thick Dow foam insulation on the outside of the foundation.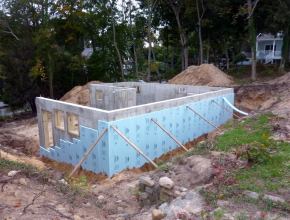 The sheets were 2′ wide and 8′ high.  They used 50 sheets to insulate the foundation in the areas that will be backfilled with dirt.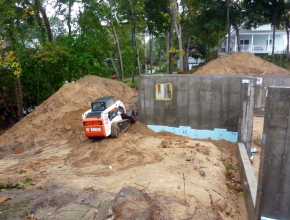 The following day, Glenn came back with his bobcat to backfill.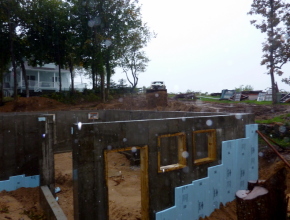 It was pouring rain that day!  We got close to 1-2″ of rain. But it didn't seem to be a problem for Glenn who moved almost all of the dirt/sand.
The deepest place to backfill was the side of the house facing the water. It's practically filled to the top of the wall. It doesn't need to go completely to the top because there will be a deck on the back of the house one day.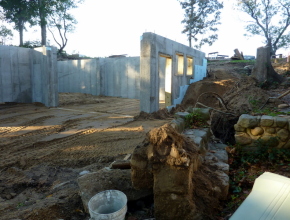 He was able to save the stone staircase on the east side of the house. Once the house is done, we can put it back.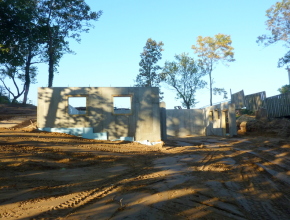 Here's the view from the front of the house when he finished.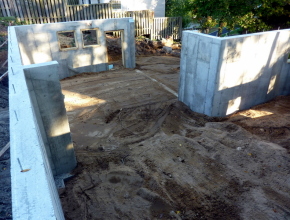 Here I am standing on the new foundation looking into the house. You can see that the dirt is 5″ lower in the garage than in the house.  I guess that's code.  So there will be one step up from the garage to the house.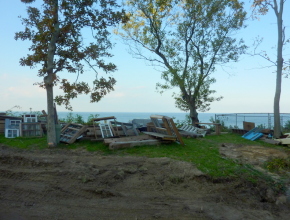 This is the first view of the water from the top of the foundation. I'm standing at the corner of the great room. Robert says the first floor elevation will be 16″ higher than I am standing here.  Should be nice, huh?