Excavation
August 26, 2014
The first step before the foundation could be poured was to stake out the location of the new house.  So the surveyor's crew came to stake the corners of the house. See the wooden stakes with the pink flags?
Those are set 5 feet from the western property line and 25 feet from the house.  That's my American Chestnut tree protected by the green posts and fencing.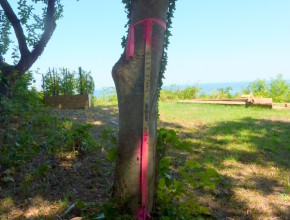 They also marked two trees with the elevations.  This one marks 109′ above sea level – one of the highest points on the property.  See the tomato garden and the Long Island Sound in the background?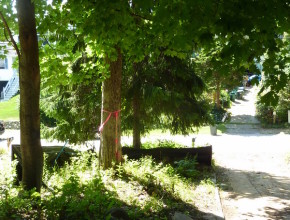 And they put an elevation marker on a tree at 93′ down near the street.  This is the marker that the foundation guys will use to place the house.
September 10-11, 2014
The next step was to dig the hole for the foundation.  So the excavator came back with a monster machine (a technical term).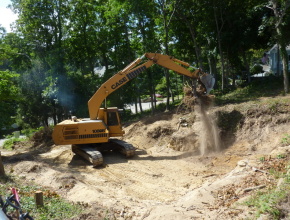 The first thing he did was to remove the tree stumps.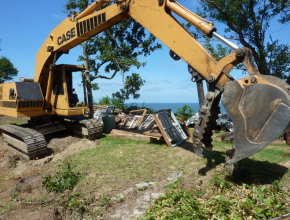 It was amazing how the thumb on the excavator could grab the stump like a toothpick.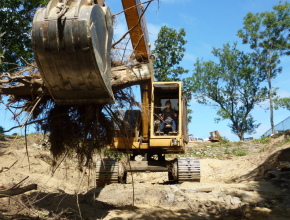 I even got a shot at moving some tree stumps into the dumpster (see the operator?).  Well not really, but the photo looks good, huh?
Once he was done removing the tree stumps, he had to dig the hole for the foundation. There was a lot of dirt piled up around the hole.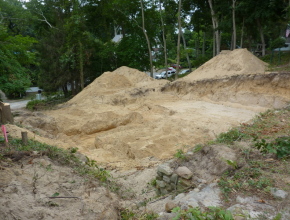 Here's the hole after he finished.  The dirt wall on the western side is more that 10′ high.  And you can see the corner stakes of the house and also where the footings will go.