Insulation & Sheetrock
December 17 – 31, 2015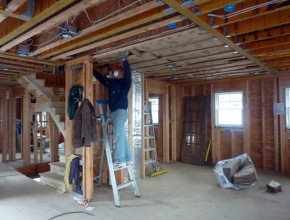 After the rough plumbing, electric, and fire calking inspections, it was finally time to install the insulation. Here's Martin doing the ceiling in the kitchen.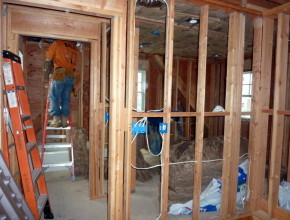 Here's the guys doing the bathroom and bedroom on the second floor. We used R19 in the exterior walls, R13 in the interior walls, and R30 on the roof and basement ceiling.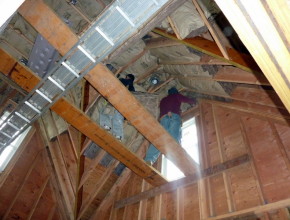 The guys made LVL scaffolding to get the insulation into the roof of the great room.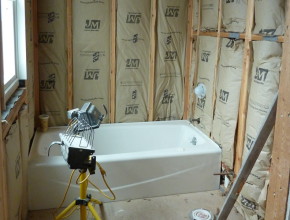 Here's a view of the upstairs bathroom after it was done. The tub was the first plumbing fixture installed in the house.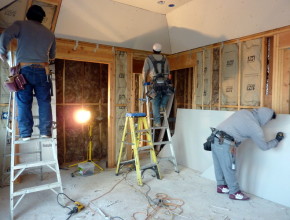 After the insulation was done, they moved on to the sheetrock. It's 1/2″ for all the walls and ceilings except certain places in the basement/garage.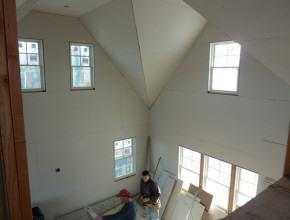 The great room ceiling was quite a challenge. There were a lot of angles and cuts to make.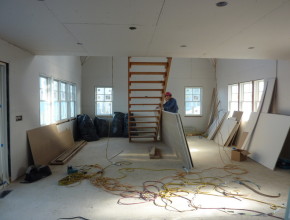 Here's the first floor of the great room once it was done.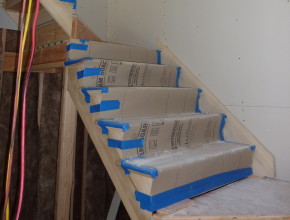 They covered the nice white oak stairs with a thick paper to protect them from damage.