Decks and Siding
February 22 – 27, 2015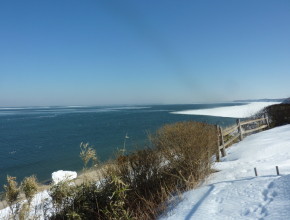 The months of January were snowy and bitter cold. For the first time, the Sound was frozen near the shore. See the ice and snow on the water?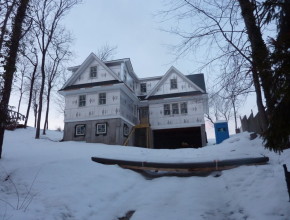 After about a month of no work, the next step was to install the back deck and front stairs. But as you can see, we had another snowstorm the day after the decking was delivered.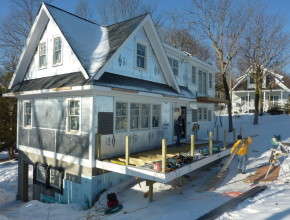 The weather got sunny but still cold. Here are the guys installing the Timbertech deck. The color is earthwoods silver maple.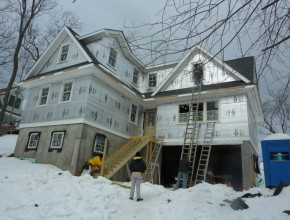 Out front, Carlos and Pepe were framing the front stairs while Ted and Melvin finished nailing up some of the trims. That ladder is a long way up!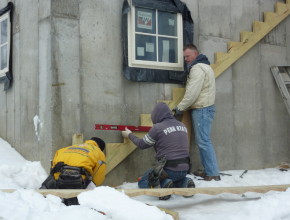 They had to get the rise and run right on the front stairs and also stay away from the window. These guys are smart.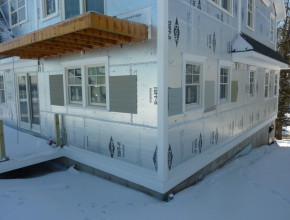 At the same time, I had to decide the color of the siding. We decide on using James Hardie bevel siding and there were lots of color options. See all the samples that Robert nailed to the house? After much debate, we went with the cobblestone color.
March 12 – 20, 2015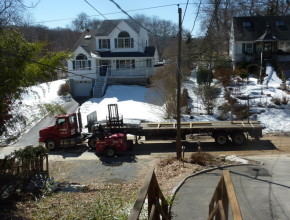 Here's Riverhead Building Supply delivering the first 250 pieces (10 squares, which covers a 10×10 ft area).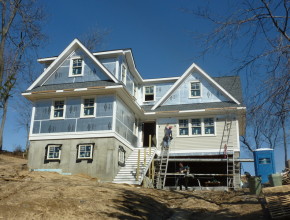 They started on the front of the house. I don't know about you, but I thought the color looked awesome.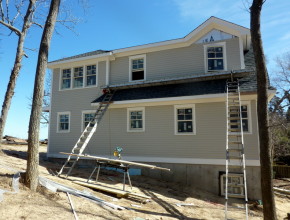 Here's the west side of the house after it was done.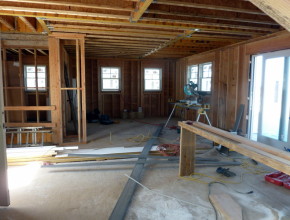 Since it was still cold outside, they set up the tools inside the house. The sun keeps it warm during the day.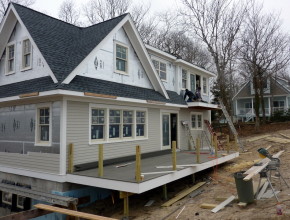 Then they moved to the back of the house and ran out of siding. So they started framing the sisters on the upper deck while we waited for another delivery.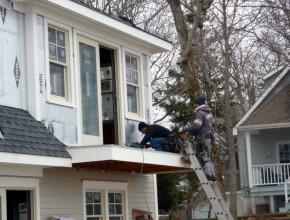 Here's a closeup view of Carlos and Pepe working on the upper deck. They had to wait until the weather warmed up to add the flashing and glue the waterproof membrane.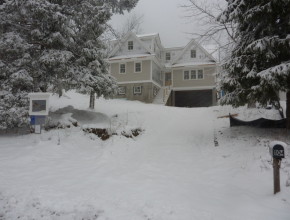 And typical of this year's winter, we had another snowstorm on March 20th — the first day of SPRING. We got 5 more inches!