Exterior Insulation & Trims
January 19-23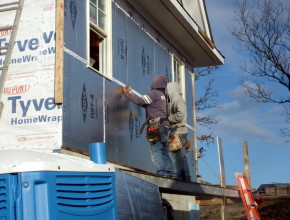 With the windows installed, the next thing to happen was the exterior 1/2″ foam board insulation. It gets stapled to the plywood on top of the Tyvek and then taped.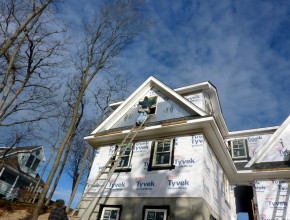 Especially for the second floor, they would cut it to size first and then carry it up the tall ladders.
Here's the view from the back of the house after the insulation was done. At the same time, you can see they nailed up the Versatex band trim at the top of the foundation and the window trims.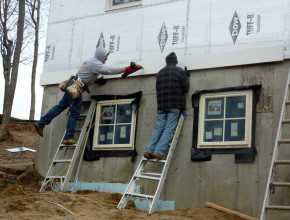 Here's a close-up view of Martin and Ted nailing up the band on the front of the house. Nice acrobatics.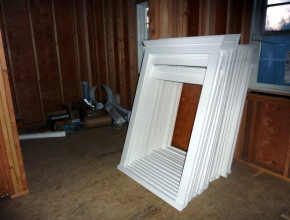 Robert measured the window opening and then he and Martin built the window trims someplace warm and brought them to the house for installation.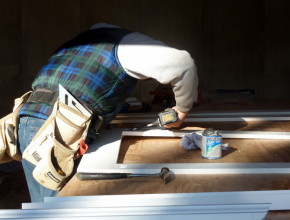 There were a few they had to frame onsite, so here is Martin putting one together. They have a clever jig to make the screws flush on the back side. And they have another fancy drill bit to counter-sink the screws when they're attached to the house. Then they fill the holes with a matching Versatex plug.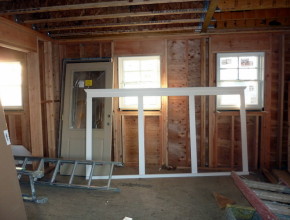 Here's the window trim for the triple window on the back of the house. Look at the nice crown molding on the top.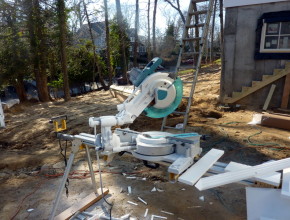 Cutting the Versatex turns all of the machines white. The teal and white Makita looks like it's full of snow (foreshadowing).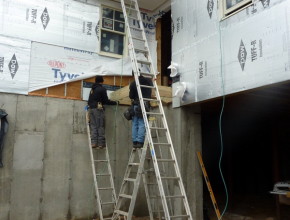 At the same time, the framers took down the temporary front stairs and framed the deck for the new stairs.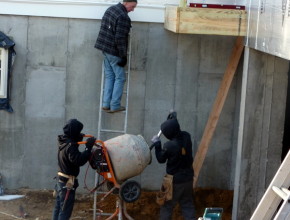 Here they are pouring the footings for the final staircase.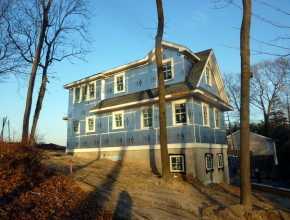 This is an awesome sunset view of the west side of the house after the insulation and window trims were done.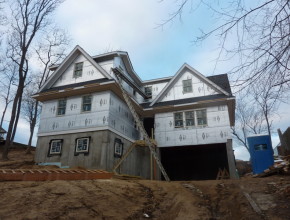 And here's the view from the front.