Windows and Decks
December 30-31, 2014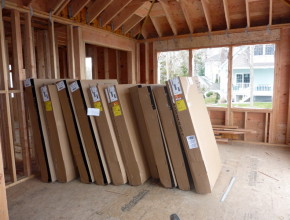 Riverhead Building Supply delivered the windows before dawn on December 30th. They woke me up around 6:30 am and I came outside and counted boxes while they unloaded the truck.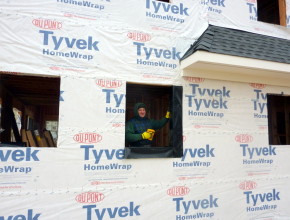 The first step in installing the windows is to put black poly around the window frame. Here's Martin stapling the poly in a kitchen window. Robert said if they run out of black poly, they could use a garbage bag. Was he kidding?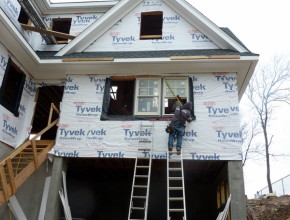 The front windows went in first. They weren't as heavy as I thought. Here's Carlos installing the great room windows above the garage.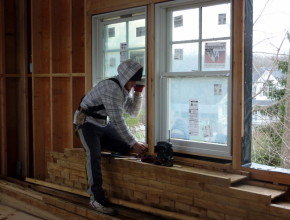 And here is Marvin leveling and shimming the windows from inside the house.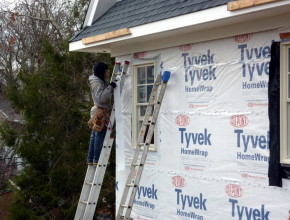 After the windows were installed, the black poly is trimmed and a Tyvek tape is used to frame the windows.
Here's the west side view of the house after all of the windows were installed. They are Anderson 400 double-hung windows and the color is canvas.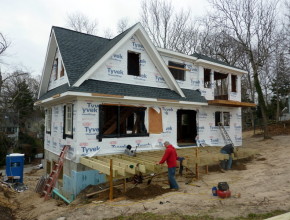 Over the same two days, some of the other guys were installing the deck on the back of the house. They are framed with ACQ 2″x10″ beams.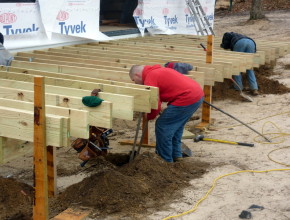 Here is Mark digging holes for the deck footings. They are 8″ diameter and 3′ deep concrete.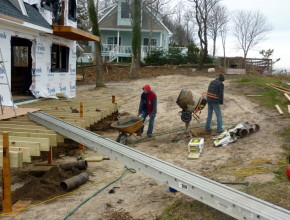 And then they mixed and poured the concrete for the footings.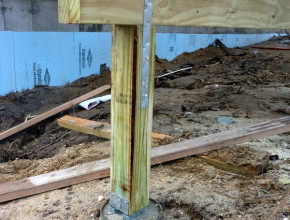 This is a close-up of how the 4″x4″ posts attach to the concrete footings and to the deck.