In the Beginning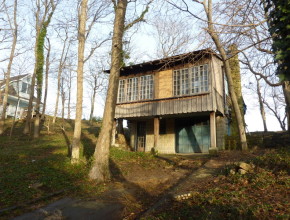 This cute little cottage was unoccupied for over 10 years and fell into a state of disrepair. When I first saw it in the summer of 2012, there were raccoons, squirrels, and birds living inside. The windows were boarded up in February of 2013.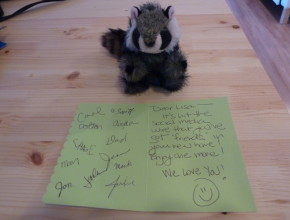 When I bought the house, I received a hilarious housewarming gift and card from my family.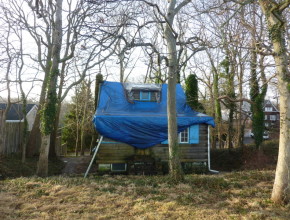 The roof in the kitchen had collapsed so a blue tarp was added to the roof.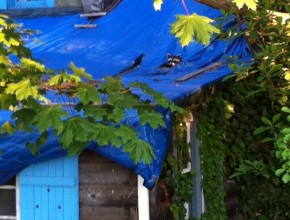 If you look closely, see my non-paying tenant poking his head out of the tarp?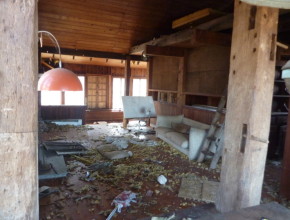 The great room made a cozy home for the animals. Stuffing from the sofa and chairs was all over the floor. Imagine the smell.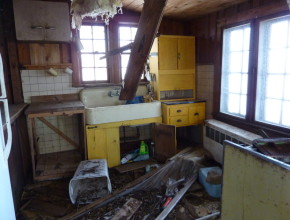 The kitchen was originally adorable but was destroyed when the roof collapsed. Nice sink, huh?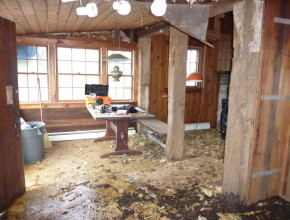 The house was framed with beautiful barn beams.  Here are 3 of them in the kitchen.  See the bench between them with the kitchen table?
No tile on the bathroom floor. Ugly green tub.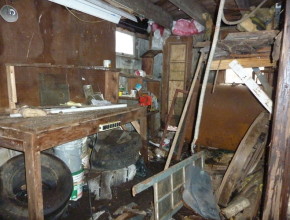 The utility room on the lower level was filled with all kinds of junk.
The only bedroom was on the lower level in the original location of the garage. It had a pair of bunk beds built into the walls.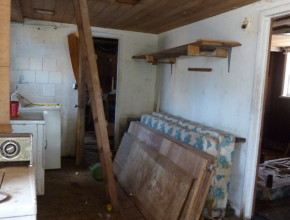 The lower level had several washing machines, dryers, and mattresses.
The only way to get from the lower level to the main level was via a ladder and through a trap door in the floor.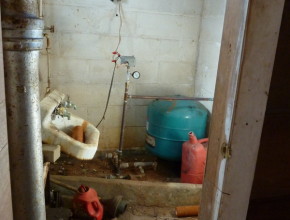 The house was on well water even though the rest of the street was converted to Riverhead Town water in the 80s. The septic system in the front yard had collapsed.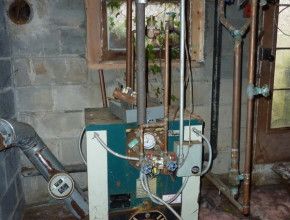 The boiler had seen better days.  And see the ivy growing through the window in the background.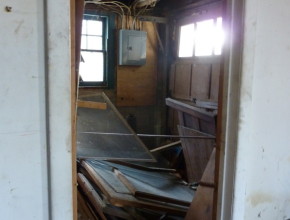 The garage door was sealed shut and the room was filled with more clutter.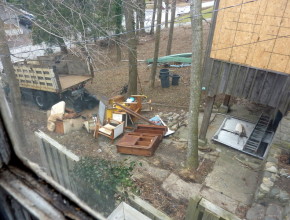 In March of 2013, the house was cleaned out by Jay's Junk. What a job!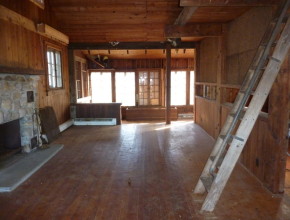 Here's the great room after Jay cleaned it out. Nice hardwood floors are visible. Nice fireplace too, huh?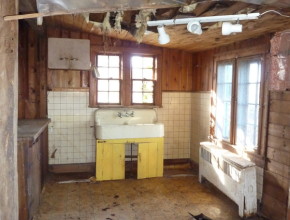 Even the kitchen looked better, despite the holes in the roof and the floor.
But it was still too far gone to be saved. The cost of rehabilitation would exceed the value of the house when it was done. So there wasn't much choice other than to start over.